About the entry qualifications

■1 Year and 1½ Year courses :

Applicants should be in the second half of their 2nd year, or in the 3rd year, or have already graduated from high school, using their native languages, and should be at least 17 years' old on the 1st of April.
■3 Year and 3½ Year courses :

Applicants should have graduated, or be about to graduate, from junior high school and should be at least 15 years' old on the 1st of April.
All applicants must be under twenty.
■Exams for April entrance :

Entrance exams are held at 9 locations around the world from August to December of the preceding year.
■Exams for October entrance :

Entrance exams are held at 9 locations around the world from May to July of the current year.
■Locations :

Seoul, Taipei, Ho Chi Minh City, Jakarta, Bangkok, Beijing, Dalian, Shanghai, Fuzhou, Los Angeles and New York
■Examination process :

Exams in English, Math and Writing, along with an interview.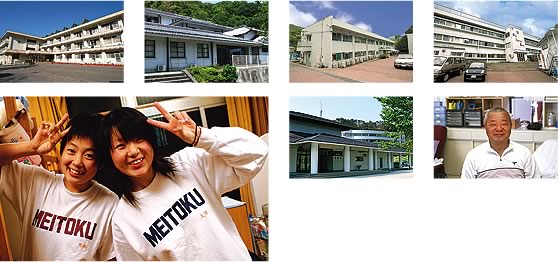 During their time at Meitoku our students can enjoy life in the dorms.
Deans live in each dorm and can provide round-the-clock attention to the students in their care. Additionally, Australian, Chinese and Korean staff also live on campus and are available to deal with any emergency situation which may arise. Furthermore, students eat three square meals a day, so they can live healthily. Of course they can also buy tea, juice, bread and instant foods from the vending machines on campus.




About off-campus activities


To purchase daily goods, and refresh themsel-
ves after studying hard every day, students can take a shopping trip into Kochi city about twice a month. This is also a time when they can put their Japanese lessons to practical use outside of the school.



About the center for international affairs


4 specially-trained members of staff are on hand to take care of legal matters such as residency status procedures, permit extensions and re-entry permits as well as arranging air tickets for international travel.



About the success rate of our graduates


At our school, 100% of our overseas students go on to further education. In the one-year intensive Japanese study programme, students can obtain the Overseas Student Japanese Language certification, as well as the appropriate level of the Japanese Language Proficiency Test (JLPT). Even over a short period of study students can improve their practical Japanese abilities, and this guarantees the high advancement rate of our students. Class teachers tailor their instruction to individual students to help them progress towards their desired goals.