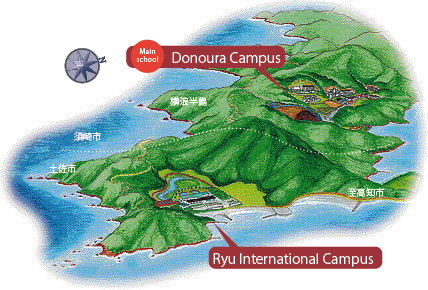 The hills, the sea, the sky – nature surrounds us.
This is where our dreams begin.
Situated in an area of national parkland on a beautiful peninsula,
Meitoku's facilities are separated into two distinct large areas –
the Donoura Campus and the Ryu International Campus
Blue skies, green hills, rich hearts.
Nestled between the hills and facing a bay of the Pacific Ocean is our spacious main campus. While working in harmony with nature, we have the classroom buildings, the student dorms, the sports facilities and faculty housing all on campus. The original wooden buildings as well as the modern concrete buildings blend into the surroundings, allowing us to live in a natural setting. The dawn light coming through the trees, the stars coming up over the hills, the waves gently washing up on the shore; all of these scenes envelop the students, helping to develop their sensitivities to the world around them.
From Kochi city a journey of just 30 minutes by car takes you past the statue of Sakamoto Ryoma in Katsurahama to our main campus which is located in central western Kochi, in the middle of a national park on a beautiful peninsula, bathed by the gentle breezes coming from the tropical Kuroshio Current flowing between Cape Ashizuri and Cape Muroto.
Blue skies, green hills, rich hearts.
The Ryu International Campus draws our eyes forward to the Pacific Ocean, its sparkling waters calling to us, bringing dreams of foreign lands far away.
Located on the calm waters of the inland bay at Usa in Tosa city, with nearby marine sports, boating and leisure facilities, the Ryu International Campus is only 40 minutes by car from Kochi city.